When Switzerland-based photographers Joakim Cortis and Adrian Sonderegger have some down time between projects, they work on an ambitious photo project of their own. Since 2012, the duo has been recreating some of the most iconic photos captured throughout history… as miniature tabletop dioramas.
The duo started their Icons project with a recreation of "Rhein II," the photograph by Andreas Gursky that sold for $4.3 million back in 2011, becoming the world's most expensive photograph.
Here's the miniature version they created followed by the original photo it was based on by Andreas Gursky:
After deciding on which shot to recreate, Cortis and Sonderegger collect the materials they need to make the scene look realistic. Things like model cars and airplanes, cement, paper, cotton balls, and more.
Each recreation is highly detailed and extremely faithful to the original shot. Projects take from 1-2 days up to 2-3 weeks to complete, depending on the complexity of the original photo.
Here are photographs in the series so far, followed by the famous images they were made to look like:
The world's first photo by Joseph Nicéphore Niépce
Abu Ghraib photo by an unknown US soldier
Mont Blanc by Louis-Auguste Bisson & Auguste-Rosalie Bisson
The crash of the Concorde by Toshihiko Sato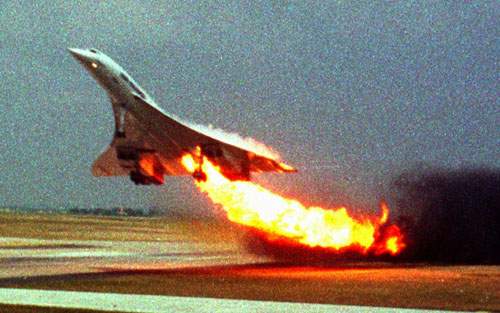 Hindenberg disaster at Lakehurst by Sam Shere
The atomic bomb dropped on Nagasaki by Charles Levy
Footstep on the moon by Edwin Aldrin
Munich massacre by Ludwig Wegmann
Hoax photo of the Loch Ness monster
The Battle of Broodseinde by Ernest Brooks
Tankman on Tiananmen Square by Stuart Franklin
The Wright Brothers' first flight John Thomas Daniels
Cortis and Sonderegger say that this is an ongoing project, and that they hope to publish the photographs as a book in the future.
(via Wired and Birds in Flight)